–>
The government is to discuss contingency plans for upcoming strikes, including using the military and civil servants to cover Border Force staff, at an emergency Cobra meeting later.
The armed forces will also be deployed to hospital trusts ahead of an ambulance strike, the government says.
But industrial action is still expected to cause major disruption.
Cobra is an emergency response committee made up of ministers, civil servants and others.
It comes amid a wave of strikes over pay this month from nurses, paramedics, rail workers, and Border Force staff.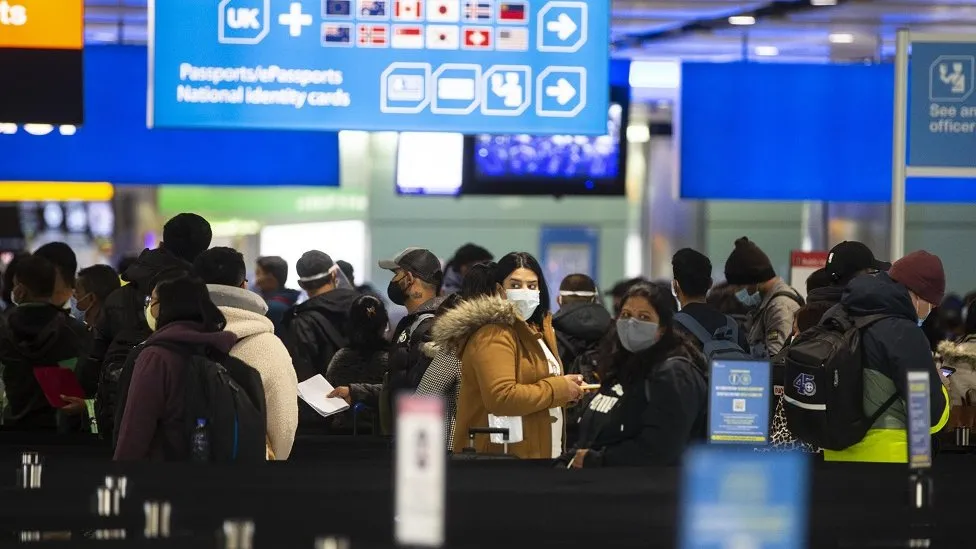 Cabinet Office minister Oliver Dowden, who will chair the meeting on Monday, has urged unions to call off the "damaging" strikes.
"The stance the unions have taken will cause disruption for millions of hardworking people over the coming weeks," he said.
"The government will do all it can to mitigate the impact of this action, but the only way to stop the disruption completely is for union bosses to get back round the table and call off these damaging strikes.
"I will be chairing a series of Cobra meetings over the coming weeks to ensure our plans are as robust as possible, and that disruption is kept to a minimum."
Trade unions are calling for higher pay rises to help their members cope with rising prices.
Downing Street has continued to stress the importance of the independent pay review boards, whose advice on pay levels it accepted earlier this year.
No 10 has also said the prime minister and chancellor do not want to stoke inflation further.
Border Force officers employed by the Home Office are set to walk out at Gatwick, Heathrow, Manchester, Birmingham and Cardiff airports for eight days from 23 December to New Year's Eve.
Members of The Public and Commercial Services Union (PCS) – who represent 75% of all passport control staff – voted to take action in support of a 10% pay rise which they say will help border workers who are "struggling with the cost-of-living crisis".
Some military personnel are already being trained up as part of contingency planning in a bid to avoid widespread travel disruption at Christmas.
While armed forces will be sent to hospital trusts to familiarise themselves with vehicles ahead of an ambulance worker strike on 21 December.
Paramedics and control room staff will walk out in coordinated strike action by the three main ambulance unions – Unison, GMB and Unite – in a dispute over pay. The action will affect non-life threatening calls only.
Prime Minister Rishi Sunak has also previously pledged to introduce "new tough" anti-strike laws.
But some of the unions have said instead of meeting each other, ministers should meet them and negotiate pay – arguing wage offers are not enough to keep up with the rising cost of living.
Pat Cullen, head of the Royal College of Nursing (RCN) union, had said strikes due to take place this week could be paused if the health secretary "seriously" negotiated over pay.
Health Secretary Steve Barclay told BBC Breakfast he was "very happy to talk" to nurses' unions but that it was "important both sides respect" the pay offer made to NHS staff.
"We have engaged with them and we continue to be willing to do so," he said, but added that the government had "honoured in full" the recommendation of the independent pay review body.
He added that he did not want to divert money away from clearing the post-Covid backlog to fund additional pay.
Speaking to LBC, Labour leader Sir Keir Starmer accused the government of "sitting on their hands".
The nurses' union have called for their members to be given a pay rise of 5% above the RPI inflation rate, which in October was 14.2%.
Sir Keir said he thought that was "more than can be afforded by the government" but said he would "get around the table" to negotiate.
Unison's head of health Sara Gorton said: "The wage rise given to health workers this year simply hasn't been enough to stop staff leaving in droves. Without enough employees in the NHS, patients will go on waiting too long for ambulances and for treatment to start.
"Instead of putting plans in place for the strike days, ministers should be concentrating all their efforts on ending the disputes," she added.